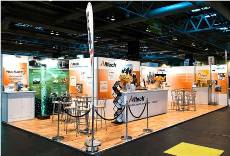 If you are thinking of attending an exhibition or trade show for the first time with your company, you can get a lot of advice on various business and marketing blogs. Trade shows provide number of benefits to businesses of all types and sizes. They are a perfect platform to not only get your brand or products noticed but also to network and find new industry connections. However, what you get out of trade show depends on how well prepared you are before going in the show. Here are several tips to keep in mind to get the best return on your investment.
A Creative Exhibition Stand
You will want to draw the attention of people from a distance away, so having an eye-catching exhibition stand is one way that you can draw the crowd. Having a stand built is an investment as you will be able to dismantle it after the event, and use the same display at the next event that you attend. It is worth your time and money to speak to experts in the field of exhibition stands, such as Aspect Exhibitions, reputable UK exhibition stand builders and contractors with over 25 years experience.
Engaging People
As well as having a display which draws people to you, when they are there, you will also need to engage with them. You will want to have people working on your stand that are bright, happy, knowledgeable, and friendly to interact with any potential customers. There are also ways that you can keep people at your stand, which will give your members of staff plenty of time to be able to interact with everyone.
Free WiFi
Drinks
Food
Mobile Device Charging Stations
A Relaxing Area
If you plan your display creatively, you can draw in people and keep them there, which may go a long way in ensuring that the event that you attend is successful.